Namaqua Chapter, NSDAR, has a strong historical presence in Loveland, Colorado. Please enjoy exploring the following detailed information1-3 about the historical markers placed by the chapter throughout our history.
Buckingham Marker
The Buckingham Marker is located in the southwest corner of Namaqua Park in Loveland, Colorado. It was dedicated on July 21, 1960. It is a bronze plaque that contains the DAR Insignia and is dedicated to the memory of C.G. Buckingham, 1846-1940, whose estate fulfilled Buckingham's wish to provide a resting place for the Modena Family. They were the first settlers of Namaqua.
Charles G. Buckingham (1846-1940) came west from Van Wert, Ohio, in June 1870, with the original Union Colony sponsored by Horace Greeley; with two other men he started a bank where Greeley now stands.
In 1871, his brother Walter came to Colorado with the Chicago Colorado Colony that settled where Longmont is now located, and in 1874, the brothers opened the Buckingham Brothers Bank in Boulder where Charles made his home until his death in 1940.
Charles owned the land on which Namaqua Park now stands and the land on which the original Fort Namaqua buildings were located.
David Barnes Marker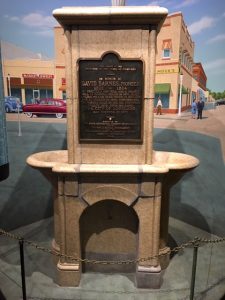 The David Barnes Marker is a bronze plaque on the drinking fountain now located in the Loveland Museum. It was originally located at the intersection of Fourth Street and Cleveland Avenue and was the town meeting place. As the town grew, it was moved to the southwest corner of Fourth Street and Cleveland Avenue. In late summer 1990, an errant automobile jumped the curb and demolished the fountain. It was scheduled to be rebuilt, but the restoration was very complicated. In 1999, the artist Rafe Ropek solved the restoration problems, and the fountain was rebuilt using as much of the original terra cotta as possible.
The inscription reads: "In honor of David Barnes, Pioneer 1821-1884 He erected a sawmill and a quartz mill in Russell Gulch in 1866. Constructed the Barnes Ditch in the Big Thompson Valley, 1872. Upon his land the City of Loveland was founded in 1877.
Erected by the State Historical Society of Colorado from the Mrs. J. N. Hall Foundation and By the Namaqua Chapter Daughter of the American Revolution 1932."
Around 1871, David Barnes purchased 320 acres of land in the Thompson Valley. He farmed the land until fall 1877 when the Colorado Central Railroad was built from Longmont to Fort Collins running through his property.
The City of Loveland was laid out the following spring. Barnes gave alternate blocks to the railroad and land for churches. He built the first brick building in Loveland. Friends thought the town should be named Barnes, but Barnes preferred to name it for his friend, W.A.H. Loveland, president of the Colorado Central Railroad.
In 1881, Barnes purchased three miles along the Cache la Poudre River just below Rustic. There he built a log house and other buildings, plus a bridge across the river. There he was killed in a farming accident in 1884.
He was a friend of everyone, always had a smile, and was known as "Uncle David" Barnes.
Duffield Marker
The Duffield Marker is a bronze plaque mounted on the east wall of the courtyard in front of the original entrance to the Loveland Public Library. This area is now east of the new entrance.
The inscription reads:
HONORING
MRS. ANNA VINACKE DUFFIELD LIBRARIAN 1903-1947.
HER VISION, ZEAL, AND COURAGE BROUGHT TO FRUITION THE LOVELAND PUBLIC LIBRARY NAMAQUA CHAPTER, N.S.D.A.R. 1953
Mrs. Anna Vinacke Duffield was born in Wellsville, Ohio, in 1865. She lived in Denver before coming to Loveland with her parents who were engaged in the hardware and furniture business. She was an instructor in organ and piano.
In 1899, her husband died very tragically and two years later, two of her four sons died the same week of typhoid fever or diphtheria.
In 1901, the Women's Improvement Society was about to disband. With a treasury of $3.10, they formed a Library Association. Along with many townspeople, Mrs. Duffield contributed many books from her extensive personal library and a reading room was opened over the drug store. Mrs. Duffield was made librarian. After several moves, the reading room settled in a small frame building on Cleveland Avenue between Fifth and Sixth Streets.
In 1905, the first Library Board was appointed, and Mrs. Duffield was employed as librarian. During the following three years, $3,200 was raised to purchase this corner. With this, the city could qualify for a $10,000 Andrew Carnegie Award with which to erect and equip a building. Dedication was on October 8, 1908. Books then numbered 1,000.
Through the library's growth, Mrs. Duffield was a guiding influence – quiet, unassuming, practical. She had been a music teacher and the great decision of her life was whether she should return to her musical career or devote her life to books. She often questioned her decision but many in Loveland profited from her decision. She was never too busy or too tired to assist in the search for knowledge. Many children and youth have been guided into channels of right thinking through her patient understanding.
She continued to serve as librarian throughout her life. When she died in 1947, she had served Loveland for 46 years.
Enos A. Mills Homestead Site Monument
A bronze plaque mounted on a concrete monument
The Inscription reads:
[DAR Insignia]
Enos A Mills, Father of the Rocky Mountain National Park, Internationally known naturalist author, lecturer and nature guide homesteaded on this site in 1885.
Placed by Namaqua Chapter Daughter of the American Revolution 1982
Enos Abijah Mills, the "father of Rocky Mountain National Park," was born in 1870. He was raised on a farm near Pleasanton, Kansas.
He came west in 1884, originally settling in Greeley. He started building a cabin by himself on his homesite between Allenspark and Estes Park in 1885 and finished it in 1887.
A naturalist by profession, he was a tireless campaigner in the cause of conserving nature's wonderful workmanship in the Long's Peak region by placing it in the keeping of the United States Government. He single handedly brought it about, for all the forces that contributed to the victory were lined up through his efforts.
After six years of persistence, writing, lecturing, and campaigning, the bill creating Rocky Mountain National Park was passed by Congress in January 1915 in the administration of Woodrow Wilson.
According to his daughter, Enda Mills Kiley, what separated Enos from other naturalists was that "he created and perfected NATURE GUIDING by training special people, both men and women, to be nature guides, using special methods …. "
A spin-off from his nature guide training was a youth program he called "The Trail School."
He ran The Long's Peak Inn across the valley from his cabin. It was started in 1901 and featured getting outdoors with nature guides.
The cabin and museum are open to the public.
Sarah Milner Smith Plaque
The Sarah Milner Smith plaque is a bronze plaque mounted on a wall of the foyer of Sarah Milner Elementary School in Loveland. Immediately above this plaque is a picture of Sarah Milner Smith and a brass plaque. Sarah Milner Elementary School is located at 743 Jocelyn Drive in Loveland.
The inscription reads:
Dedicated in honor of Sarah Milner Smith Pioneer Teacher of Larimer County 1866-1870
By Namaqua Chapter Daughter (Insignia) of the American Revolution
Sarah Milner was born in Canada and grew to her girlhood in Freeport, Illinois. In her early teens, she was a private secretary to Bishop John H. Vincent and at age 16 was a teacher in the same building.
In 1864, the Milner family came west to the gold and silver mines of Central City and Nevadaville. Indians often attempted to steal their horses and stock enroute, and Central City was not all they expected. In a short time, they homesteaded a tract of land in the Big Thompson Valley, one-half mile south of present-day Loveland.
In 1866, she began to teach school in a little log schoolhouse on the banks of the Big Thompson River. It was a small one-room building with a sod roof through which the rain would trickle, leaving muddy puddles on the homemade desks.
The school was a community building in which all public gatherings were held. Every other Sunday, a circuit rider held forth, and the Reverend Mr. Smith of the Methodist Church conducted his first service there.
In early days, friendly Indians came in strolling bands, passing through to the southeast buffalo country. They would come in the school and ask for "whisk" (whiskey) and "shuge" (sugar) and could not understand why they didn't find any there.
In 1870, Miss Milner married Joseph Smith and devoted her time to homemaking until her husband died, leaving her with three small children. For a time, she ran the Big Thompson House, but her love for teaching prevailed, and she became a teacher in Loveland schools.
She homesteaded a tract of land on the Buckhorn River. The development of the Buckhorn and Crystal Mountain country was largely due to Mrs. Smith and her sons, Eugene and Edward.
She died in 1939 at age 95.
Namaqua Marker
The Namaqua Marker is a bronze plaque mounted on a natural boulder located in Namaqua Park in Loveland.
The original site of the marker was north of the river and west of the road. After his death, the estate of Charles G. Buckingham, who had owned the land, citizens of Loveland, and the DAR created the present Namaqua Park and moved the marker and the graves of the Modena family to their present locations.
The marker was erected in 1931. The inscription reads:
[Colorado state seal]
This memorial is the property of the state of Colorado
Namaqua
Home, Trading post and Fort of Mariano Modena, early trapper, scout and pioneer. First settlement in the Big Thompson Valley. Station on Overland Stage route to California 1862
Erected by the State Historical Society of Colorado from the Mrs. J. N. Hall Foundation and By the Namaqua Chapter Daughter of the American Revolution 1931
History: Mariano (Marianne, Marianna, Mary Ann) Modena (Medina) was a guide with Fremont's expeditions, a runner for Colonel Johnson from Fort Massachusetts to Fort Bridger, and a guide with Captain Randolph B. Marcy's expedition across the Rockies during the winter of 1857-1858.
Shortly after his expedition with Captain Marcy, Modena settled with his family on the banks of the Big Thompson River, about three miles west of present-day downtown Loveland. He built a house on the south side of the river, and later built a stone fort on the north side of the river. This settlement he named Namaqua in honor of his friend, Chief Namaqua.
Later he added a variety store. His settlement was a stop on the stage route to California.
At one time Johnson owned the land which is new Lakeside Park.
War Memorial Monument
The War Memorial Monument is a cast red concrete pillar on the face of which is mounted a large bronze plaque and 20 small oval plaques. The memorial is located in the southeast corner of Loveland Burial Park, 1702 Cleveland Avenue in Loveland.
In 1924, a grove of ash trees was planted in the cemetery and at the base of each tree a bronze marker was placed in memory of a soldier who lost his life in World War I. Additionally, each of four other trees was marked with a bronze plaque honoring either The Unknown Soldier or the war dead of the Revolutionary War, the Civil War, or the Spanish-American War.
In 1986, these plaques were moved to the present red concrete pillar.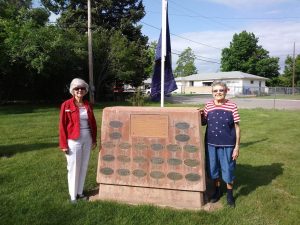 History
*estimated
| | | | | |
| --- | --- | --- | --- | --- |
| Conflict | Served | Total Casualties | Battle Deaths | Other Deaths |
| Revolutionary War (1775-1783) | 184,000- 250,000 | 33,769* | 6,824* | 18,500* |
| Civil War (1861-1865) | 2,813,363- 3,713,363 | 780,213* | 214,938* | 283,394* |
| Spanish-American War (1898) | 360,760 | 4,108 | 385 | 2,061 |
| World War I (1917-1918) | 4,743,826 | 320,710 | 53,513 | 63,195 |
| World War II (1941-1946) | 16,353,659 | 1,078,162 | 292,131 | 115,185 |
| Korean War (1950-1953) | 5,764,143 | 157,530 | 33,629 | 20,617 |
| Vietnam War (1964-1973) | 8,744,000 | 211,324 | 47,356* | 10,795* |
Washington Elm Scion and Marker Loveland

The Washington Elm Scion and Marker is a bronze plaque mounted on a built-up wooden shaft inside an octagonal bench surrounding a huge elm tree located in a micro-park on the northwest corner of the intersection of Lincoln Avenue and Eisenhower Boulevard in Loveland.
The inscription reads:
Scion of the Washington Elm at Cambridge, Mass. Namaqua Chapter, 1931 NASDAR
On July 3, 1775, General George Washington took command of the Continental Army at a ceremonial review in Cambridge, Massachusetts, under an elm tree which has become known as the Washington Elm.
In April 1931, Namaqua Chapter received a shoot from an elm tree grown from seeds of the Washington Elm. The shoot was planted in the yard of then Lincoln School. The tree had excellent care from the custodian, but soon died to the ground. Then, a green shoot came through but it, too, died and all hope was given up. However, the following spring a green shoot again appeared which kept growing. The tree did well, but after a few years the yard was converted into a gravel playground. Somehow the tree survived.
In 1948, when the tree was dedicated and presented to the city of Loveland and to the school board, it was tall, beautifully shaped and 15 inches in diameter. A marker was placed on a band around the tree but was later removed and stored. In 1965, the tree was again in trouble. The school land was sold to a company which did not intend to save the tree but changed its mind in the face of concerted opposition to the tree's destruction. An underground watering system was installed in addition to a concrete wall to protect it from parking lot traffic. The tree lived and is now the only known survivor of three Washington Elm scions planted in Colorado.
Early in this century it became apparent that the Washington Elm at Cambridge was doomed. In October 1922, what was left of the tree fell over with a crash as workmen were trying to bolster some live branches. A plaque now marks the site of the tree which was estimated to be over 300 years old at its death. At its prime it measured 18 feet in circumference, 100 feet in height, and 90 feet in the spread of its branches.
References
1. Stieghorst, Junann J. Colorado Historical Markers of the Colorado State Society, National Daughters of the American Revolution. Littleton, Colo: Littleton Independent, 1978. <https://archive.org/details/coloradohistoric00stie>.
2. McLaughlin, Hildegarde H., and F. B. McLaughlin. A Guidebook to DAR Historic Markers in Colorado: Where They Are, What They Look Like, How to Find Them. [Place of publication not identified]: [Colorado State Society of the NSDAR], 1991.
3. Ruth, Christine Etherton. Travelling Through the History of Colorado: Colorado State Society, NSDAR Historical Markers.